There are certain advantages and disadvantages of becoming a substance abuse counselor.
Advantages:
A major advantage is that you probably will not have a hard time finding a job. With the rise of addiction the need for substance abuse counselors is in high demand.
In fact according to the U.S. Bureau of Labor Statics projects a growth rate of 29% for counselors by the year 2022.
With people being forced to get health insurance, this will help to increase this growth because most insurance provide coverage for substance abuse counselors. An additional reason for this growth rate is that many states are sending drug offenders to treatment centers rather than prison.
Another advantage is that there will be jobs available if you move to another state, however since certain states require different certifications you will need to research the necessities to apply.
Entry level jobs only require a high school diploma but the more education you have the better your chances are of obtaining a higher level position with better pay.
The greatest advantage of all though is that you will be helping people with their addiction.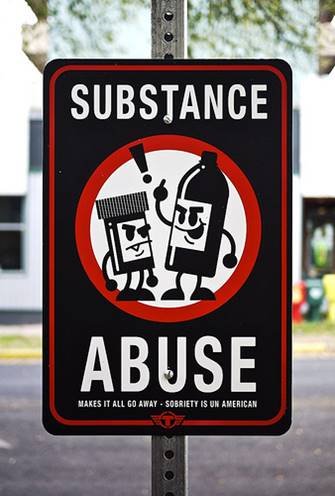 Disadvantages:
Photo by
kevinliuzzo
Some disadvantages of being a counselor are the long hours, stressful work environments and boredom. Listening to people tell their addiction issues day after day can be exhausting, and for those who do not really want the help, it can be a difficult task to try to help them. If you work in a hospital or treatment center the hours can be long and tiresome.
Several counselors are on call 24 hours a day 7 days a week. If you work as an outpatient counselor or a private practice your hours can be sporadic and a 24/7 job as well. Therefore it really depends on where you choose to work as well as your education level.
This job can also be emotionally taxing. Listening to other people's problems all day long can take its toll on the mind.
Owning your own practice can have its disadvantages as well. Building clientele can take a while and dealing with the insurance companies can be difficult. The paperwork and billing you will have to do is time that you will not be getting paid for. The schedule is sporadic as well as many patients will require appointments after work or even on weekends.
There is also the chance that you might feel like you have failed one of you patients in the event that they could not be helped. It's important to remember that this the case. Many addicts do not recover from their addiction.
Overall, the advantages of becoming an addiction counselor far outweigh the disadvantages. You are making a difference in people's lives. You are helping them to recover from their addiction and deal with their issues and recognize their triggers.
According to Douglas Killer, MA, C.A.C. "On a personal level, I have been blessed to work with adults in the pursuit of recovery and abstinence since 2003. This was when I realized the impact of the disorder upon individuals, families, and our greater community and decided that I wanted to make a positive impact. Being a substance abuse counselor can be an awarding career if you want it to be."
[qs_widget wtpl="onestep" sub="SUBSTANCE-ABUSE-ADDICTION-COUNSELING" framewidth="750″]